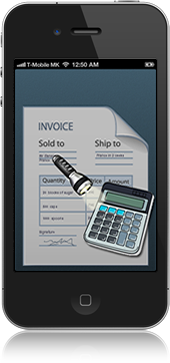 Light-Calc is made to make some life tasks simpler.

An real life situations:

1. Have you ever intercept in a situation when you need to calculate an invoice but it's too dark to see the invoice, now there is a very convenient way, using this app.

2. Are you in the bed with an invoices or even at dark located place, now there is a simple solution: easily light the invoices while calculating.

3. Have you ever found yourself in a situation when it's too dark while walking and you have something on mind to calculate, with light & calculate everything is so simple.


Category: Productivity
Price: $0.99
Updated: April 17, 2013
Version: 1.0.6
Size: 1.8 MB
Language: English
Seller: Kiril Delovski
© Light-Calc 2013
Note: This app is only made for iPhone 4, 4s, 5 (iOS 6.0 & up)

-In consideration of decreasing the battery level while using the light, timer of 5 minutes is being implemented if you accidentally forget to turn it off :)

"Simply an unique application and first of it's kind in app store!:)"

Wishing you a happy and useful usage of this app!